[ Home ] [ Library ] [ What We think ] [ Founders ] [ Search ]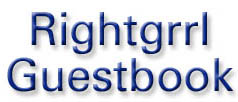 Go ahead and add your comments, but please do not submit advertisements
for unrelated products or services.
---
The RightGrrl Guestbook is temporarily closed.
The archives will be updated in the next couple of days.
Until the guestbook returns, please feel free to read, or re-read
the extensive collection of articles housed on this site.
Next set of entries from this month